Happy Father's Day!
Fields of dreams stretch out in front of me, and I see those of many folks. I enjoy talking to people about the topic of their imagined and planned futures, while trying to have some insights about my own. Funny thing is that as a dad, most of my dreams on this special day are those I have for my sons wishing theirs come true!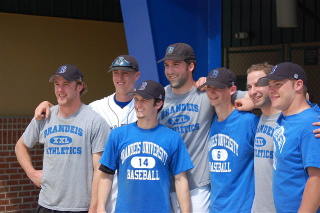 Brandeis University Baseball's Class of 2008.
Today, I want to overview the beginning trek into the
various fields of dreams
for the seven sons who are the senior baseball players recently graduated from Brandeis.
(I unapologetically list the '08 players in alphabetical order, and thus my son comes up first, which seems appropriate to me on Father's Day!)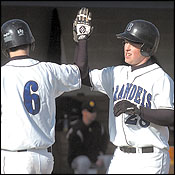 Malcolm Cone-Coleman. SS. After graduation, Malcolm stayed in Waltham a little time saying goodbye to Vernon Street, the original baseball house, where he lived for his last two years while attending Brandeis. He interviewed for jobs, especially one that was #1 on his list. Then Malcolm spent a couple weeks in Portland, Maine, waiting for call-backs and relaxing with his brother Caleb, his hometown friends, old baseball teammates, and his family.
Malcolm got the job he wanted, and began work on June 9th, at the New England Sports Network (NESN) headquarters in Watertown. NESN is 80% owned by the Boston Red Sox. Malcolm will be learning a variety of jobs there, and initially, as a production assistant, at night, writing up sports stories and uploading videos (like Hazel May interviewing Terry Francona, above) for the website,
NESN.com
. Malcolm is excited by this job, loves the opportunity to work in sports information for the Sox, and looks forward to what tomorrow will bring. Malcolm plans to be as close to baseball as he can, recreationally playing and professionally working in the field.

Craig Letendre. RHP. Craig went on a cruise with teammate Pat Matthews after graduation. Beginning on June 23rd, Craig starts working at the State Street Corporation in Boston and says his title is a mutual fund accountant. While Craig doesn't expect to play baseball in the immediate future, he may join some mens' leagues someday.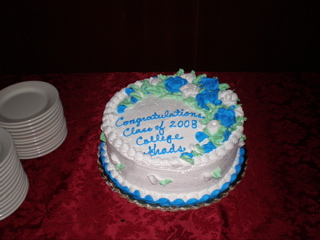 Pat Matthews. RHP. Pat, back from his cruise with Craig, is working at the Chapins restaurant on Cape Cod in Dennis, Massachusetts, for the beginning of the summer. Then Pat will start his job with John Hancock in Wellesley as a financial adviser in mid-August. He has plans to get back to playing baseball sometime soon, but won't be playing any baseball this summer.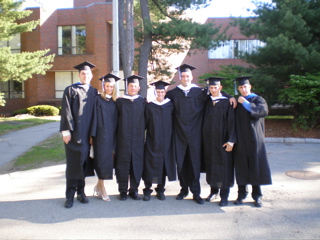 Brandon Pick. RHP. Taking a break after graduation, Pick starts work on July 7th at Ameriprise Financial, doing private practice for Pursino, Andriola & Associates, a private wealth firm, out of Garden City. In the beginning, Pick will be writing financial plans and helping with investment strategy, then early next year, making investments full time. Pick figures within three years he can attain being a CFP, Certified Financial Planner. Pick jokes that playing baseball in the near future is not happening, but a slow pitch softball league may be more in his calling in the years to come.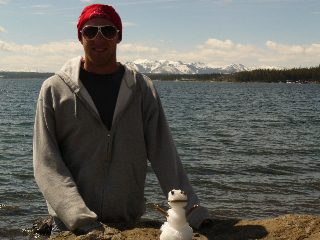 Tyler Robinson. LHP. Being a Canadian, Tyler decided to use his last few weeks of his visa to see the USA (as pictured above). He has visited or is on his way to the Catskill Mountains, Cleveland, Niagara Falls, Chicago, the Mall of America, Mount Rushmore, Yellowstone National Park, Bryce National Park, Zion National Park, Yosemite National Park, San Francisco, Carmel, Santa Barbara, L.A. and then back to New York City, before returning home to Canada. Tyler is studying for the Mcats this summer and working at a needle exchange program in Ottawa part time. He may go back to school for a masters program and end up in either public health or international health. Tyler will be playing baseball with the
Oshawa Royals
this summer, and he is negotiating to play baseball in Australia for fall 2008 (which is their spring, of course).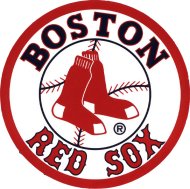 Chuck Sheehan. CF. Chuck is waiting for the newly built condo (near Boston College) in which he and Malcolm will be roommates, along with Chuck's brother Matt. Hopefully it will to be completed by the middle of the summer. Chuck has begun his paralegal job at a Boston-based law firm Cetrulo & Capone LLP. Chuck is playing on the Boston InterCity League's
Cassell Club Baseball team
this summer.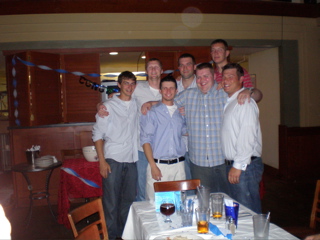 Rocco Toppi. RHP. Rocco moved back to Portland for the summer, and has a summer job at Sorella's Bakehouse, which is owned by his girlfriend's father. While Rocco won't be playing baseball, he is running the summer basketball program at Portland High School, with Eric Shone, another former PHS basketball player. Rocco is keeping his options open for either a more permanent job or going back to school for a masters in education.